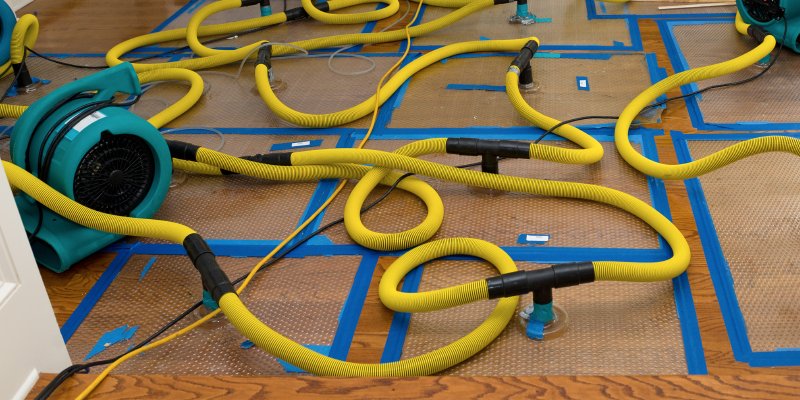 In the event you are affected by water damage like burst water pipes, sewage backups, flooding, etc., here's a list of 11 steps you should expect professional restoration specialists to take:
1. 24-Hour Emergency Contact, Rapid Response
Water damage acts very fast. Your water damage restoration needs to be deployed rapidly too.
Within one hour, furniture submerged in water can start to swell, split and stain. Within 48 hours, mold, mildew and bacteria will start to affect surfaces and fabrics. If recovery begins within 24 hours of getting wet, there is a higher possibility of restoring the affected materials, helping to mitigate your losses.
Therefore, you should contact water damage restoration specialists immediately.
Professional water damage restoration specialists maintain a 24-hour emergency call centre to deal with all emergencies.
When you do call them, the call representative will ask questions in a systematic manner to collect details of:
the damage,
the source of damage,
the condition of your premises,
your insurance information,
the condition of electrical circuits within the premises,
the availability of electricity around the premises.
They should also reassure you about any concerns you might have about the water damage.
The restoration specialists should be present at your premises within 1 to 2 hours of the call to conduct the initial site damage assessment.
In the ideal scenario, you should call immediately upon realizing that water damage has occurred. Restoration is most effective when the assessment is done within 1 to 2 hours of the damage. This is a crucial step in creating an effective plan of action that will result in a successful restoration.
2. Inspection of Premises and Assessment of Water Damage
Once they arrive at your premises, the restoration specialists will conduct a detailed inspection of your property.
The following is a brief breakdown of the process:
Identification of Water Source
Cessation of Water Ingress From Source
Checking for Contaminated Water
Identification of Type of Water (Category 1, 2 or 3)
Damage Assessment
Solution Assessment
Safety Assessment
Safety Debrief to Occupants, Owners and Recovery and Restoration Personnel
3. Temporary Protective Measures
While restoration and recovery works are in progress, it is important to:
facilitate the restoration by the moving of furniture and other property,
cordon off unaffected property safely,
protect property from further water damage that may be continuing, etc.
Professional water damage restoration specialists provide the following services to protect your property and to facilitate the whole recovery process to ensure your premises are returned to a pre-loss condition effectively and efficiently:
Board-Up
Roof Tarp
Blocking or Moving Contents, Property and Furniture (Warehousing if Necessary)
Safety Debrief to Occupants and Owners
4. Extraction and Removal of Visible Excess Water
The first step the professionals should undertake after inspection, assessment and removing property from your premises is the efficient and rapid extraction of visible excess water from your premises.
Depending on the amount of water, the equipment they use may include powerful submersible pumps and industrial-strength extractors which may be truck-mounted. This helps to reduce the drying time, reduces primary water damage and helps to prevent mold growth and secondary water damage.
Once complete, professional water damage restoration specialists will inspect your floors to assess whether they should be restored or disposed of.
There are 3 main steps in this stage:
Organized and Efficient Move-Out of Property & Belongings
Excess Water Removal Using Extractors
Flooring Inspection (Carpets, Pads, Wooden Floors and Marble Floors)
5. Drying and Dehumidification to Remove Retained and Hidden Water
Even after all visible excess water has been removed, water is still retained and remains hidden within your premises, especially within porous materials like drywall and wood and hard-to-access areas within your premises.
From this point on, your water damage restoration specialists will be constantly detecting your premises for moisture and water, and constantly testing the levels of moisture in different areas of your premises to ensure the return of your premises to an acceptable level of dryness.
They will use industrial-grade dryers, blowers, dehumidifiers, and manipulate temperature and relative humidity to ensure your premises are completely rid of the unwanted water and moisture.
These are the steps water damage restoration specialists will take at this stage:
Detection of Retained and Hidden Water Using Infrared Cameras
Moisture Testing Using Hydrosensors & Hygrometers
Deployment of Dryers
Deployment of Blowers
Deployment of Dehumidifiers
Inspection of Walls and Floors
6. Disposal
Once your premises have reached acceptable levels of dryness which are both reasonable and acceptable to you while fulfilling international restoration standards, some items may be considered too damaged for recovery or restoration. Professional water damage restoration specialists will then ensure that these items are disposed of in a safe and efficient manner.
7. Cleaning of Walls and Floors (On-Site)
At this stage, after all the water is removed and drying and dehumidification has been successfully carried out, the floors, walls and other surfaces in your premises will be cleaned using the method best suited to the surface condition, the kind of water contamination, the extent of water damage and your needs.
8. Content Restoration (On-Site and Off-Site)
For full restoration and recovery, many of the valuable contents in your premises require special drying techniques like drying chambers with special temperature and humidity controls. In such cases, your contents will be moved off-site for special restoration works to be carried out.
Professional water damage restoration technicians will also restore important machinery, fine art, documents and your furnishings:
Documents & Fine Art
Electronic Equipment, Machinery and Computers
Furniture & Furnishings
Flooring – Carpets, Underlays, Wooden Floors, Marble Floors
9. Deodorization
Water is a universal solvent and reacts with almost any material. This can be seen especially in the odors emitted off premises and property that has recently been damaged by water. These odors are serious, persistent, and cannot be removed by normal air fresheners and deodorizers. The removal of unpleasant odors is thus one of the most important priorities in water damage restoration.
The following steps will be taken at this stage to remove these unpleasant odors:
Deployment of Air Scrubbers
Deployment of Fogging
10. Sanitization with Antimicrobials
In many water damage cases, it is paramount to ensure the safety and good health of all occupants of affected premises. The whole premises are treated with a disinfectant to kill all pathogenic microorganisms, which include germs, bacteria, viruses, fungi, mold, allergens and other bio-contaminants.
You can also opt for a special antimicrobial treatment – AEGIS Microbe Shield – which will protect all treated areas with a protective coating that kills microbes upon contact.
11. Completion of Water Damage Restoration – Repair and Move-In
Once the restoration experts conduct further testing and monitoring of all affected areas, repair works are undertaken to restore your premises to its pre-loss condition.
Professional restoration specialists may either perform the following services by themselves or find reliable sub-contractors to do the work for them:
Drywall Removal and Installation
Hardwood Floor Repair
Tile Floor Repair
Painting
Carpet Repair and Installation
Building Services and Reconstruction
Restorative Carpet Cleaning/Wooden Floor or Marble Floor Polishing
Once all of the above is done, you will be ready to move in to your newly restored premises with peace of mind, knowing that the restoration specialists did a thorough and professional job.
Keep this article handy or in mind should you ever have to face water-damaged premises.
<div class="footer-new-cta"><!-- [et_pb_line_break_holder] --><p>If you're experiencing flood and water damage, call DRS now.</p><!-- [et_pb_line_break_holder] --><p>Our subject matter experts and our highly-trained technicians experienced in flood and water damage clean-up, recovery and restoration are ready to help you.</p><!-- [et_pb_line_break_holder] --><p class="footer-new-cta-a"><a href="tel:+6592229222">Call DRS today at 9222 9222!</a></p><!-- [et_pb_line_break_holder] --><a href="/contact-us"><div class="new-footer-cta-btn">Contact Us</div></a><!-- [et_pb_line_break_holder] --></div>