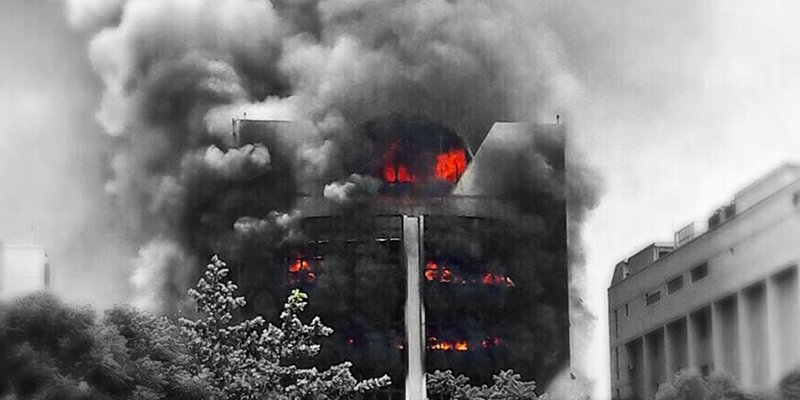 'Disaster strikes'…even before you come to terms with the actual impact of a disaster, the very thought of it sends shivers down your spine! While there is hardly any place on earth that has not come under the grip of disasters, certain regions are more vulnerable to them due to their prevailing climatic conditions and proximity to seismic belts and volcanoes. Apart from the geographical factors, external inducers such as rampant industrialization, irresponsible handling of chemical wastes and toxins, faulty infrastructure and rapid buildup of mold and fungus in the home and office interiors also contribute to a variety of disasters that are known to mankind.
So, are disasters completely unavoidable? Is there nothing that can be done to lessen their adverse impact? If you have been thinking along these lines lately, then here's a comprehensive guide for you that outlines disasters in general and those that are common to Singapore. Needless to say, when a disaster strikes, prompt disaster recovery and restoration actions are what eventually matter and should be prioritized if loss mitigation and swift resumption of critical operations are your prime goals.
Types of Disasters
Disasters can be natural or induced. Natural disasters, often dubbed as 'Acts of God', can take you by surprise completely as they are quite unpredictable and leave us with practically little or no time at all to plan for them in advance. Earthquakes, floods, volcanic eruptions, tornados, cyclones, tsunamis and hurricanes are a few of the well-known natural calamities that pose immense potential to human life and property.
Man-made disasters are more often than not an outcome of technological hazards and can be curbed to a great extent with responsible usage of perilous materials and periodic maintenance of the accident-prone infrastructures and buildings. Floods, nuclear explosions, electrical fires, engineering hazards, environmental damage, chronic indoor air-related health disorders and industrial mishaps like oil spills and gas leaks are few of the uncalled-for events that classify as human-caused disasters.
Importance of Rapid Disaster Recovery and Restoration
One of the significant aspects that have a far-reaching impact on the extent of the damage caused by a disaster is our ability to respond to the calamity in the shortest possible duration. When disaster strikes, every minute counts. Under such circumstances, a prompt response plays a vital role in bringing the situation under control and restoring the affected properties to their pre-loss condition in the least possible time. This is of paramount importance when you want to resume normalcy as fast as you can and reduce the losses incurred due to disruption of services.
Hiring rapid disaster recovery and restoration services can go a long way in managing a catastrophe effectively and can mitigate the detrimental aftermath of a disaster to a great extent. Swift disaster recovery is also essential for mitigating financial losses as your insurance company may not cover the full amount of the damage arising out of natural or man-made disasters.
Disasters That Are Quite Rampant in Singapore
While the locational advantage of Singapore shelters it from many natural calamities, man-made disasters are not uncommon to the island nation. Mentioned below are few of the common causes that trigger disasters in Singapore and warrant urgent and expert response to ensure loss mitigation.
Flood

Due to its warm tropical rainforest climate, Singapore witnesses recurrent shower spells that often exceed the average rainfall thresholds. This makes the country prone to frequent flash floods such as the ones that occurred between 2010 and 2013 and led to many casualties along with disrupted businesses. Another lesser known cause of floods is the accidental or fire-triggered activation of fire sprinkler systems which can cause accumulation of water in our home or office premises, thereby inducing a flood-like situation.
Whenever there is a flood, you run a risk of disrupted services and businesses for days to come as the excess water can make the premises inaccessible and damage valuable machinery and documents. Moreover, it leads to formation of moisture in your environment which, in turn, encourages the growth of mold and bacteria. The residual moisture can cause destruction and deterioration of priceless art and documents, corrosion of hardware and electronic gadgets and trigger mechanical failure – a potential fire hazard.
In order to salvage the situation quickly, it is important to seek the professional services of a certified disaster recovery and restoration company like Disaster Restoration Singapore (DRS) that has the latest techniques and equipment to remove the surplus water quickly and leave your premises spick and span in no time. Apart from water removal, DRS offers comprehensive flood damage recovery services that include management of undetected moisture, document recovery, mold remediation and elimination of odor resulting from mold and bacterial infestation.
Fire

Fires are one of the most deadly disasters that can cause irrevocable damage to human lives and properties. Singapore is no stranger to the perils of fire outbreaks as evident from the 1961 Bukit Ho Swee Fire that ravaged many homes and destroyed property to the tune of SGD 2 million. Neither is the country protected from the hazards of smog as the forest fires of neighbouring Indonesia produce haze which also spreads to Singapore and the surrounding regions. Moreover, the island nation has year-round hot weather which is well-suited to heat waves and wildfires. In addition, flammable liquids, faulty wiring, malfunctioning electrical equipment and combustible chemicals and gases are few of the common causes that trigger fires in the Lion City.
Most fire disasters are accompanied with billows of smoke and soot that can provoke a plethora of health-related disorders such as eye irritation and respiratory diseases. Moreover, the ongoing fire generates a variety of poisonous gases and corrosive by-products that can adversely affect the surrounding materials and assets. Reaching out for the emergency corrosion mitigation services of an expert disaster recovery and restoration agency can ensure that the leftover smoke is quickly removed and the risk-prone surfaces are urgently treated with a corrosion inhibitor. Companies like DRS also come with specialty equipment like air scrubbers that are enabled with High-Efficiency Particulate Air (HEPA) filtration systems. These air scrubbers purify the contaminated indoor air by extracting the fine air-borne smoke and odor particles that are imperceptible to the naked eye and remain suspended in the air long after the fire has been extinguished.
Mold Damage

It is a known fact that microbiological agents such as mold and fungus are key contributors to inferior indoor air quality and are instrumental in causing chronic health problems in individuals at home and at the workplace. Mold and fungus thrive well in the warm and moist weather of Singapore and the presence of chemicals and post-flood moisture can also contribute to their formation and growth. They are also notorious for causing the Sick Building Syndrome.
Reversing the damage inflicted by these microbiological agents is a complex task that is best left to the skilled services of a reputed mold and fungus remediation company like DRS. They are armed with vast experience in this arena and boast state-of-the-art machinery, the latest technology and advanced anti-microbial treatment methodologies to disinfect, deodorize and restore the affected surroundings to healthy conditions.
Industrial Hazards

Undeniably, industrial hazards remain one of the most alarming disasters of the 21st century and are known to kill many innocent lives, leave thousands injured and destroy valuable properties and goods, sometimes worth billions of dollars! They manifest themselves in the form of fires, explosions and leakage of lethal chemical wastes and toxic fumes that cause grave damage to the environment. Typically, chemical plants, oil refineries and depots, natural gas processing units etc. deal with a significant amount of flammable materials at high temperatures and pressures and are therefore more vulnerable to industrial disasters.
The technologically advanced nation of Singapore has also experienced one of the worst-known industrial disasters in 1978 when the Greek tanker 'Spyros' exploded. The horrific industrial accident took many lives and triggered a flash fire that made immediate rescue operations near-impossible.
Any chemical disaster recovery demands a speedy removal of the dangerous spills and wastes in order to alleviate the long-term consequences of impaired health and environmental pollution. It is imperative that you avail yourself of the expertise of highly-trained technicians of an experienced disaster restoration company in Singapore. These Subject Matter Experts are well-versed with the process of disposing hazardous waste to a pre-approved disposal site in a safe and timely manner.
Conclusion
Leading disaster recovery companies in Singapore like DRS are renowned for their fast response times in the wake of a chemical disaster and are known to offer 24/7 emergency restoration services throughout the country. Disaster Restoration Singapore has the most up-to-date disaster restoration and personal protective equipment as well as in-house specialists who arrive at the affected site within an hour of activation to undertake a quick assessment of the incident. They also assist with the collection of necessary evidence that is indispensable for further investigation and root cause analysis of the mishap.
Lastly, one must bear in mind that while the occurrence and prevention of a disaster may or may not be in our control at all times, post-disaster recovery and restoration of our important assets and critical business activities are certainly achievable – provided we waste no time and call upon the professional services of a certified disaster recovery company in Singapore.
<div class="footer-new-cta"><!-- [et_pb_line_break_holder] --><p>If you're experiencing flood and water damage, call DRS now.</p><!-- [et_pb_line_break_holder] --><p>Our subject matter experts and our highly-trained technicians experienced in flood and water damage clean-up, recovery and restoration are ready to help you.</p><!-- [et_pb_line_break_holder] --><p class="footer-new-cta-a"><a href="tel:+6592229222">Call DRS today at 9222 9222!</a></p><!-- [et_pb_line_break_holder] --><a href="/contact-us"><div class="new-footer-cta-btn">Contact Us</div></a><!-- [et_pb_line_break_holder] --></div>