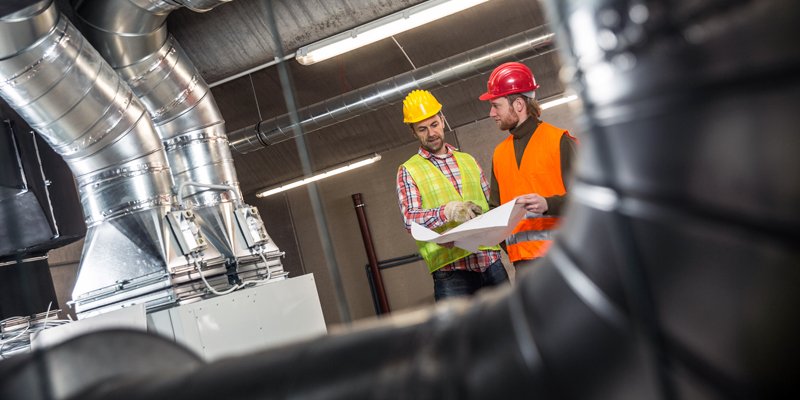 ACMV (Air-Conditioning and Mechanical Ventilation) systems are very beneficial, but only if they function properly and improve the quality of indoor air. ACMV systems include HVAC (Heating, Ventilation and Air-Conditioning) systems too. To work at its full potential, your ACMV unit as well as all the air ducts need to be clean. While filters present in the system prevent a lot of dust from entering into air ducts, sometimes dust and other contaminants may still accumulate and lead to poor efficiency of ACMV system.
If your ACMV is not functioning properly, it will lead to poor air quality. This system not only regulates your indoor temperature, it also controls the humidity level and levels of different gases including oxygen and carbon dioxide. If this system is not working as well as it should, you cannot expect to have good indoor air quality.
Most experts recommend that changing your filters regularly is an adequate step to ensure continued optimal functioning of the ACMV system in your house. However, in some cases, this is far from enough and you need to get the whole unit and ducts thoroughly cleaned by professionals to improve the indoor air quality.
When Should You Clean ACMV Ducts?
Excessive cleaning is not required, but there are some instances which warrant the help of professionals.
In Case of An Allergy
If someone in your house suffers from an allergy-related breathing difficulty and you can't find the root of the problem, it is best to get your ACMV ducts cleaned by a professional service. There might be an allergen present in the ducts which is causing the problem.
Mold
Mold growing anywhere in your house can be quite dangerous for the health of your family. Mold can grow in air ducts which are dirty, moist and contaminated. If you can actually see mold inside the ducts, you must call a mold cleaning service immediately to get rid of it. If you are not sure about the growth, you can remove the cover and wipe the side of the duct with a moist cloth. If mold is indeed present there, some of it will rub off on the cloth and you will be able to see it.
Too Much Dust
Dust gathers everywhere, and ducts are no exception. However, in most cases, filters lock out a lot of the dust so only a little of it actually accumulates inside. If there is visible, thick dust on the corners of air duct covers, or it appears to be dark brown in color, you should consult a professional duct cleaning service. They will be able to do an inspection and advise you whether your ducts need to be cleaned or not.
Rodents Or Other Infestations
Pests, rodents or other small animals may be nesting in your ACMV ducts. These animals can lead to the spread of diseases and also reduce the efficiency of your heating and cooling system. In this case, contacting a cleaning service is absolutely essential. A proper, well-established ACMV cleaning service will remove the animals before thoroughly cleaning all your ducts and restoring them to their original, clean state.
Getting Rid of Odor
If you can detect an odd odor in your house but are not sure about the source, it may be coming from your ducts. Molds, fungi and other microbes can produce this odor, and thorough cleaning by foul odor treatment professionals is needed to get rid of it.
ACMV Cleaning In Case Of A Disaster
One very important indication of getting your heating/cooling system and all the ducts cleaned is when disaster strikes. You never know when that might happen. And when it does, it can lead to problems with your ACMV system.
A flood, for example, can lead to dirty, contaminated water getting inside the air ducts and making them filthy. Even after water levels fall, contaminants will remain in the duct and lead to poor air quality as well as low performance of the heating/cooling system. Therefore, cleaning out the system is essential in this case for disaster recovery.
Similarly, a fire can damage the ducts and the units, leading to their breakage. Smoke and other contaminants may stay in the ducts after the fire has been put out. If you turn on the cooling at this time, you will be inhaling these harmful substances. Therefore, disaster restoration in this case will again involve getting your ACMV professionally cleaned.
There are special disaster restoration services, like Disaster Restoration Singapore (DRS) which specialize in cleaning the ACMV system and air ducts after any disaster. They not only clean this system, they will also clean any other surface, furniture or carpet etc. which needs to be restored to its original state.
The professionals use special machines and equipment to wash and clean your house for disaster restoration. This means that your house will not only look clean, it will also become free of contaminants, debris, pollutants and anything else which might be harmful for you or your family.
Disaster Restoration Singapore is well known for its prompt response rate. They will come to your aid immediately after a disaster strikes, and will greatly help you in cleaning up not only your ACMV system but also anything else that has been damaged and contaminated.
What Can You Expect When You Call A Cleaning Or Disaster Response Service?
If the whole cleaning process is done adequately, it can take several hours, and requires the service of many people. Make sure that the agency you hire agrees to clean your heating and cooling unit along with all the air ducts.
The professionals use commercial vacuum cleaners as well as other tools for the process. They may also advice you about changing the filters, if required.
Many such services give you a free estimate of how much the cleaning process will cost. All you have to do is call them up and detail the services you want, and they will tell you how much you can expect to spend.
Prefer to hire professionals who have been certified by Indoor Air Quality Association. Also, consider their experience in the field as well as reviews of past customers before you make your final decision.
<div class="footer-new-cta"><!-- [et_pb_line_break_holder] --><p>Your HVAC systems and ducts need regular maintenance for improved health and increased productivity.</p><!-- [et_pb_line_break_holder] --><p>Call DRS now – our team of subject matter experts and specialists will use state-of-the-art technology, products and processes to clean and sanitize your ducts quickly and cost-effectively.</p><!-- [et_pb_line_break_holder] --><p class="footer-new-cta-a"><a href="tel:+6592229222">Call DRS today at 9222 9222!</a></p><!-- [et_pb_line_break_holder] --><a href="/contact-us"><div class="new-footer-cta-btn">Contact Us</div></a><!-- [et_pb_line_break_holder] --></div>